The Bethany & Rufus version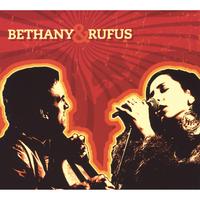 Bethany & Rufus
are a singer-and-cello duo, mentioned on this site
the other day
: She's the daughter of Pete Yarrow from Peter, Paul and Mary, and he's a "renowned cellist." Their CD,
900 Miles

,
includes a version of "SJI," and thus gets our attention here.
The arrangement is sort of spacey and echo-y and ethereal, with Bethany's voice dominating the spare mix. The cello is plucked, rather than sawed, which I found a bit disappointing. Bethany has a perfectly fine voice, but like many contemporary versions of the song, this one is long emote-ing, and short on genuine emotion. It's a bit of a lounge piece, almost. In fact, you could just about imagine it being really effective as the backdrop music in a noirish movie scene, set in some faded-glory nightclub, after hours.
"St. James Infirmary," by Bethany & Rufus